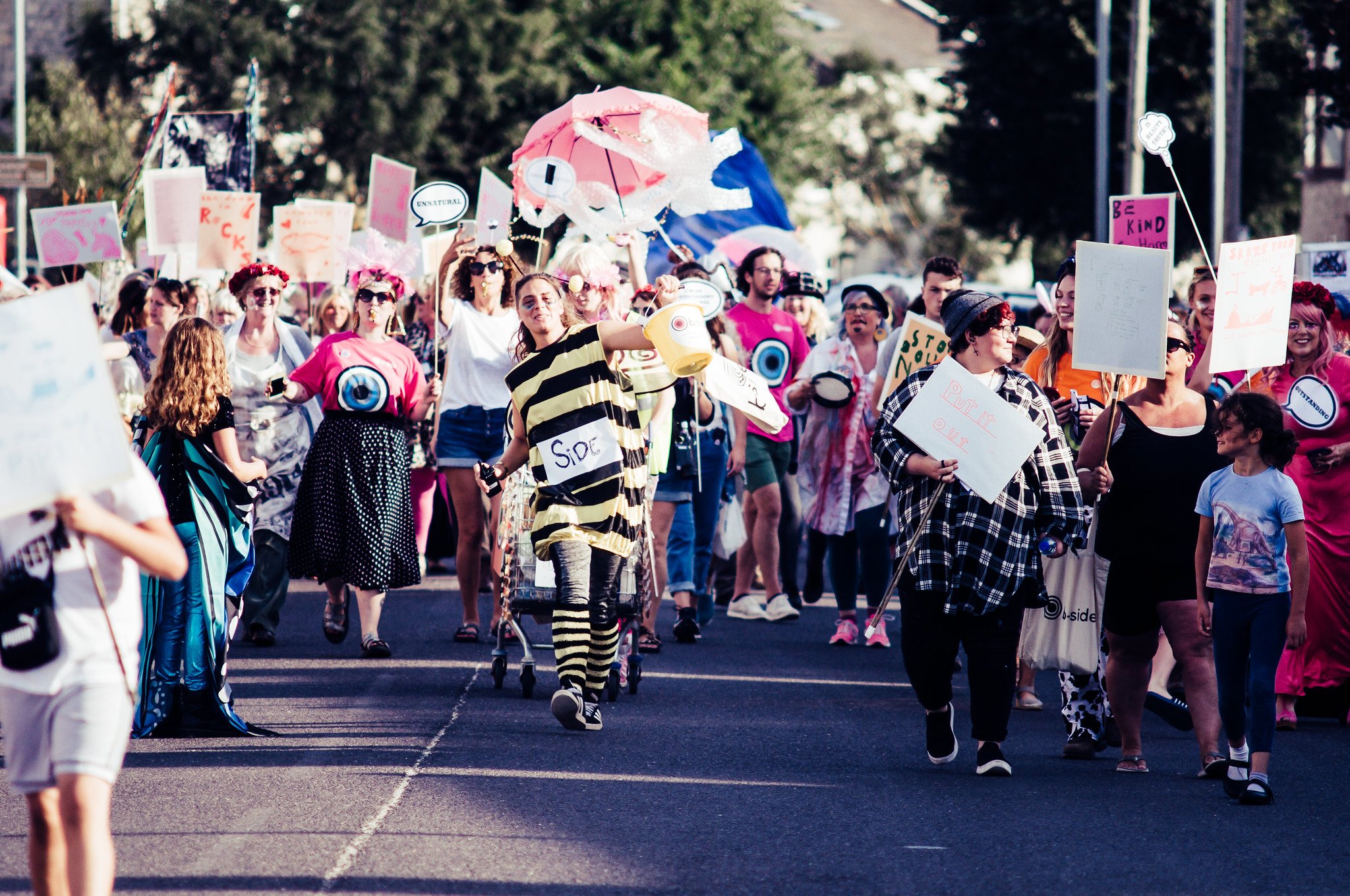 Want to join in?
Sign up here and we will send you all you need to know and you will get all the latest updates on taking part in the Parade sent straight to your email.
<! HIDE CONTENT ON MEC EVENT PAGE div class="mec-event-content"> <! /div>
The Parade is BACK! Last years wonderful Parade was such a hit, we just had to bring it back for this year's b-side festival.
This years theme is KEEP PORTLAND WEIRD and everyone is invited to this celebratory parade through the streets of Portland led by YOU, our festival artists and b-side volunteers.
We want as many community members as possible to get involved, so tell your friends, your family, your sports team and your knitting club. The theme for this year's parade is "KEEP PORTLAND WEIRD" – so dress up in your weirdest, we can't wait to see your outfits this year!
Here's the planned route:
We will meet at Easton Square Gardens at 4pm and then start walking around 4.30pm. We will walk down to the Portland Museum, and back again to Easton Square. We have organised a road closure so we have the whole street to parade and dance in.
Please note the entire route is a wide street with level access and we especially encourage anyone who identifies as disabled to take part. If you have any access requirements please just contact our lead Access coordinator, Molly, to discuss anything at all: molly@b-side.org.uk
It is completely FREE to take part in the parade,  – just sign up and then turn up at Easton Square Gardens at 4pm with your artworks and outfits at the ready!
If you don't feel confident or have the materials to make anything for the parade,, we have some great FREE workshops you can join in with. Please sign up here and we will send you details of these when they are all confirmed.
Map and Directions