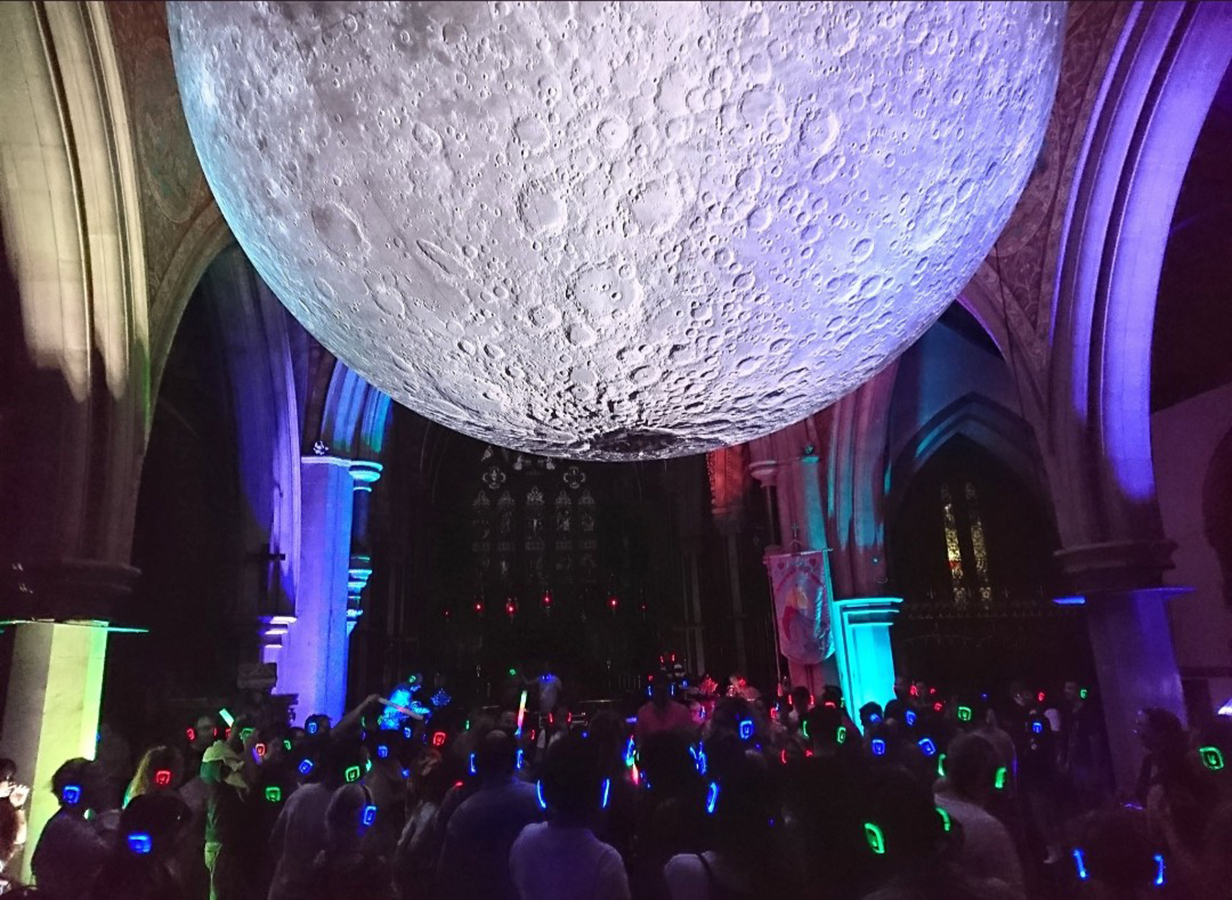 <! HIDE CONTENT ON MEC EVENT PAGE div class="mec-event-content"> <! /div>
Luke Jerram's Museum of the Moon Luke Jerram's Museum of the Moon is an astounding, illuminated, seven metre diameter spherical sculptur…
Luke Jerram's Museum of the Moon
Luke Jerram's Museum of the Moon is an astounding, illuminated, seven metre diameter spherical sculpture and features 120dpi detailed NASA imagery of the lunar surface.
At an approximate scale of 1:500,000, each centimetre of the internally lit sphere represents 5km of the moon's surface.
This incredible installation is a fusion of large-scale NASA lunar imagery, moonlight and surround sound audio created by Ivor Novello Award and BAFTA-winning composer Dan Jones.
1 – 8pm 
Earth Module – Matilda Skelton-Mace
Installation experience for 2 persons
Earth Module is a multi-faceted dome structure with room for two people that uses infinity mirror effects and subtle, organic lighting patterns to evoke the night sky contained within a tent so it can't be seen until entry, its form is inspired by the interior of the Apollo 11 lunar module.
1- 8pm
This Then Is The Moon – George Roberts
Individual VR headset experience
Mounted on a steel plinth a battered helmet inspired by Eugene Cernan's Apollo 17 helmet – the last to view the Moon – which compliments a 150-second immersive digital VR headset experience that chronicles our ever-changing relationship with space. Made in collaboration with visual artist Natasha Salkeld and milliner Immy Howard.
2pm Get To Know the Moon  with Richard Hesketh
Come along to this fun and informal talk with Richard Hesketh to find out all about our celestial neighbour. Learn about the moon's phases, eclipses, moon landings, the 'moon illusion' and lots more moon facts! Suitable for all ages.
8 – 9.30pm Nothe Fort closes
9.30pm Doors open for 'A Small Dream'
10 – 10.30pm
A Small Dream – R+D Studio
Live peformance and video projection featuring dancer Hema Palani.
The story of a tiny Indian robot bound for the moon. A Small Dream is inspired by India's real lunar ambitions and the rover they have created and identified as female. It combines dance and projection.
11.15pm
Call of the Wild – Ra Zamora
Call of the Wild is a sound installation inspired by the wolf's howl. Ra Zamora intends to create a primordial experience to transport people to the wild corners of their psyche, whilst feeling the lifeforce and restorative effect of the male and female wolves howling alone and then merging together. Accompanying poem will be distributed.
For all access information please download the pdf below
Nothe Fort
Barrack Road
Weymouth
DT4 8UF
Map and Directions